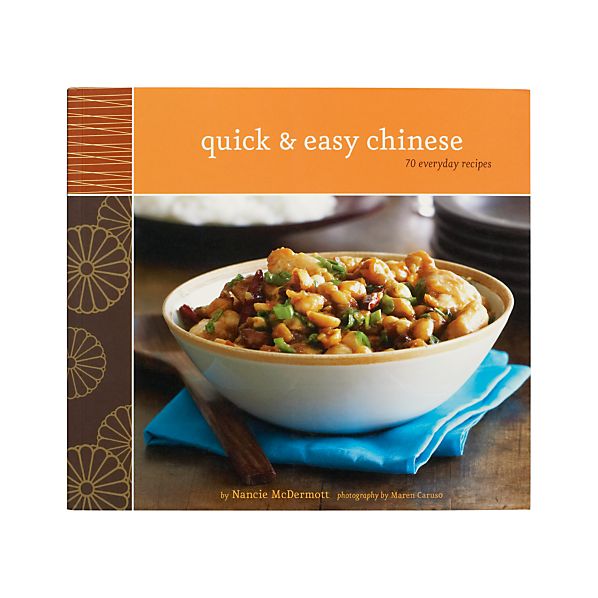 image via


We received this cookbook at one of my bridal showers-it was one I registered us for at Crate and Barrel, and they still have it! You can find it here. We have made several recipes out of this book, and most have been hits!



Last week, the hubstigation made the Pepper Steak recipe from the book---it was delicious!






1 tblspn dry sherry or rice wine (we used rice wine)

1/2 lb. thinly sliced beef (we used about 3/4 lb. or a little over of flank steak)

2 tblspn soy sauce (we always use low-sodium soy)

1 tblspn chicken broth or water

1 tsp dark soy or molasses (we didn't have either and just added a little extra regular soy in)

1/2 tsp freshly ground pepper

2 tsp chopped fresh ginger (we didn't have this, so we just left it out!)

2 cups thinly sliced green bell pepper strips (we used a green pepper, red pepper, and yellow pepper)



Combine the sherry/rice wine, water, and cornstarch and stir to dissolve cornstarch. Add beef & toss to cover evenly. Set aside.
Combine soy sauce, chicken broth, dark soy, salt, sugar, and pepper, and mix.
Add one tablespoon of oil to a large skillet/wok and then add the garlic and ginger.
Add in peppers to the skillet and let them cook until they just begin to soften, then remove back into a bowl.
Add more oil, if needed, and then add your beef in. Let it cook until it's no longer pink, and then add the peppers back in.
Add the soy sauce/broth/salt/sugar mix and toss the beef and peppers in it until it is coated. Peppers should be tender but not limp, and the beef should be cooked through when you pull it off to serve.
Time to nomnomnom! We ate this over half a cup of brown rice in a bowl and it was perfect!
our version