Hellloooo all of my lovely and fresh-faced readers who made it here despite my Bloglovin' not being turned over yet! (BTW Bloglovin', way to be so difficult to change your web address. Customer service email is pending now.)
Welcome to Simply Sara Elizabeth!!
I am over the moon excited to be sharing my new design and name with everyone today!
I have been wanting to make a BIG change for a while now....
"Sara In Texas" was great, but none of it felt like me....Sara Elizabeth.
So I contacted the beautiful and talented Ms. Kaitlyn at Put a Bow on It: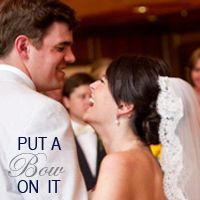 k go say hi to her now, thanks.
And she has created the beautiful vision in front of you right now, Simply Sara Elizabeth.
You will get the same ridiculous lists, the same wannabe runner stories, adorable puppy pictures, the occasional delicious recipe idea, and of course, all of the wine/champs/vodka sodas this blog can handle!
I am just so excited about all of this. All of my social media (except Bloglovin') has been turned over so you should be good to go if you're already following me
....and if you don't already follow along, then head to my new fancy schmancy social media buttons up top and keep up! Don't be afraid of the old "Sara In Texas" pics that still appear...to be replaced soon. I swear.
I also have a gorgeous new button that I can't wait to show off in lots of sponsorships, and if you're feeling kind, take that along with you today! (PS this is why I haven't booked any for the next few months...wanted to have all of this re-branding and re-design done!)
Finally, there will still be a few changes to come, mostly small things, and I will be adding new things here and there, and updating my pages over the next few days, so I ap
I feel like this whole post is all exclamation points, and I don't even care, I am just so. freakin. happy. to have a blog that represents me in a better light, and I can't say enough amazeball things about Kaitlyn, she nailed it on the first go with my design. I literally said, "glitter and sparkles, and um, this is the new name." and BOOM. And in under 10 days, no less.
Love.
So thanks for coming by, and I can't wait to start this new chapter of my blog life with everyone! I seriously feel so rejuvenated (like Ramona on RHONY) with this fresh look and name, so I am hoping to funnel that into a lot of great posts to come!